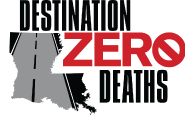 Americans are increasingly bicycling to commute, for exercise, or just for fun. By law, bicycles on the roadway are vehicles with the same rights and responsibilities.
In addition to health benefits, bicycling offers many social benefits as well. Bicycling is an activity that can be enjoyed by all ages, and it can provide a unique opportunity to interact with and experience ones community.
Nationally, bicyclists accounted for 2 percent of all traffic deaths and 2 percent of all crash-related injuries in 2014.
In 2015, FHWA's Safety Office revised the list of pedestrian-bicycle focus states and cities. Two cities in Louisiana made the list — Baton Rouge and New Orleans.
In Louisiana, bike fatalities went up from only 13 in 2014 to 34 in 2015.
Be a "Roll" Model bicycle safety campaign offers tips to people driving and bicycling on how to stay safe on the road.
As a result of New Orleans and Baton Rouge's designation as pedestrian and bicycle focused cities, it was apparent that there was a need to for increased education regarding bicycle and pedestrian safety. Out of this need, the Be A Roll Model safety campaign was born in Louisiana.
---